Hello and welcome to the Theatre for Living (Headlines Theatre) website. Please have a look around. There are reports, videos and interviews about theatre and social justice issues throughout the site.

After 37 years of production, we have decided to devolve the Company and stop doing large productions. I am still responding to invitations to do projects in community: workshops with or without performance, trainings, speeches and other small or large inventions as requested. If you would like to consider something in your community please contact me at hello@theatreforliving.com.

Thank you to everyone who supported and was a part of Theatre for Living (Headlines Theatre) over so many years.

David Diamond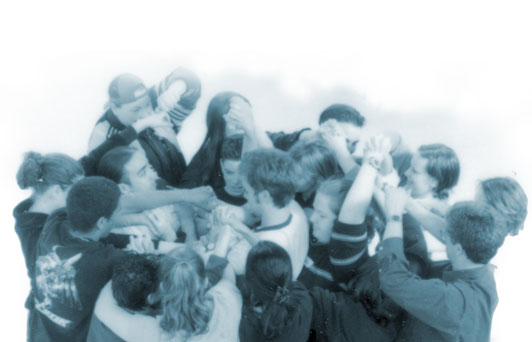 About us...
Founded in 1981, Vancouver's Theatre for Living (formerly Headlines Theatre), directed by David Diamond, uses the language of theatre to help living communities tell their stories. Theatre for Living (TfL) has evolved from Augusto Boal's "Theatre of the Oppressed". Since 1989 the TfL methodology has slowly moved away from the binary language and model of "oppressor/oppressed" and now approaches community-based cultural work from a systems-based perspective; understanding that a community is a complexly integrated, living organism.

Theatre for Living has become a worldwide example of theatre for social change; theatre for dialogue creation and conflict resolution; theatre for community healing and empowerment. Projects have taken place in collaboration with Indigenous Nations and diverse communities through over 600 workshops, Power Plays (a 6 day process that goes to performance) and audience driven events around the world on issues such as violence and suicide prevention, anti-racism, youth empowerment, homelessness, mental health, othering, globalization and corporate control, climate change and processes of reconciliation.

Theatre for Living is on the curriculum of UNESCO's Peace Studies Program at the University of Innsbruck where David is Visiting Faculty and is being used by the Faculty of Medicine and Dentistry at the University of Alberta where he is Visiting Theatre Director.

Don't miss the annual Theatre for Living training workshops. They are attended by people from around the globe who apply the philosophy and techniques to a range of issues limited only by our imaginations. As Augusto Boal used to say, 'Theatre is a language that belongs to all of humanity.'
Since attending the Theatre for Living training workshop, I have experienced an enormous evolution of understanding in the process of group dynamics. My awareness of the delicate balance between planned programming and intuitive facilitation is much sharper. I have a keener sense of honouring the stories of all the people who are in the room, listening to the voice of the voiceless, blurring the lines between protagonist and antagonist. What I have learned has shifted the foundation of my work, and refocused my direction. I am forever grateful for this experience.              
Vancouver
Thank you to all involved in šxʷʔam̓ət (home)! I haven't seen any other piece of theatre before that I actually felt had the capacity to shift people's minds and hearts towards authentic reconciliation. This is important work and I was so glad to share in it.
Vancouver, BC
I have seen several Theatre for Living shows over the years. I'm always amazed at how masterful David is at drawing out rich and meaningful dialogue from every moment of every community intervention. This is based in his deep faith that as a living organism a community can heal itself.
University of Alberta