Headlines Theatre, in collaboration with Neworld Theatre, Transformative Communities Project Society, and Jews for a Just Peace present:
Ashtar Theatre's

The Gaza Mono-Logues
October 17, 2010
Rhizome Café
6:30 pm
Admission by donation
Seating is limited, reservations recommended.
604.871.0508
"The war was a black ghost that covered Gaza's day and night. It imposed its hell on people, on the earth and sky and air that we breathe." - The Gaza Mono-logues
The Gaza Mono-Logues is an exciting global project initiated by Iman Aoun, Artistic Director of Ashtar Theatre, Palestine's first theatre training organization for youth. The impulse for the project emerged from the attack on the Gaza Strip, December 2008 to January 2009, which led to the death of 431 children and wounded another 1,872. In 2009 Ashtar Theatre, with the help of UNICEF, began conducting drama therapy and creative writing workshops with youth directly affected by the attacks. By focusing on these youths' individual experiences, their dreams, fears, and hopes, Ashtar Theatre compiled a body of work that led to the birth of The Gaza Mono-Logues.
Ashtar Theatre has organized recitals of the The Gaza Mono-Logues in 30 cities worldwide, in multiple languages, all on the same day: October 17, 2010. Headlines Theatre, in collaboration with Neworld Theatre, Transformative Communities Project Society, and Jews for a Just Peace is proud to be part of this important undertaking. In the Vancouver production, staged at the Rhizome Café, five local youth will each perform a monologue written by six youth in Gaza. The evening begins with a musical introduction by local musician Emad Armoush, and will end with a facilitated discussion after the monologues. Vancouver is the only Canadian city hosting the global project.
Find the Vancouver events page on Facebook here.
For more information: http://www.thegazamonologues.com/
The Gaza Mono-Logues Vancouver is directed by David Diamond, mia amir and Aliya Griffin.
Director Bios
David Diamond
As Artistic Director of Headlines Theatre David has directed many hundreds of community specific theatre projects and trainings throughout the world. He has pioneered the development of live, interactive Forum television and web casting. A 1975 BFA acting graduate of the University of Alberta, David is the recipient of numerous theatre and human rights awards. In 2001 he received an Honorary Doctorate of Letters from the University of the Fraser Valley. He is the author of many published articles and Theatre for Living: the art and science of community-based dialogue (winner of the American Alliance of Theatre and Education 2008 Distinguished Book Award).
Aliya Griffin
Aliya is a performer, creator, director, producer, and educator with a keen interest in political and community based theatre. Favourite projects include directing Chile con Carne by Carmen Aguirre at the Havana Theatre, co-producing and directing a satirical piece on human trafficking for Hive: the newbees at the 2009 Fringe Festival and performing as a member of the Blonde Forest in Neworld's Mixie and the Halfbreeds. Most recently Aliya directed The Peace Game in collaboration with students from Van Tech based on diaries of youth in conflict areas. Aliya holds a BA in theatre performance and political science from SFU.
mia amir

mia amir is an Israeli-born poet, vocalist, emerging playwright, community organizer, and facilitator who has lived most of her life in Greater Vancouver, Unceded Coast Salish Territory. She is the co-founding Coordinator of the Transformative Communities Project Society, which runs arts-based, anti-oppression, community-empowerment programs. mia believes that creativity is one of the most important tools for imagining and creating a more just world.
Cast Bios
Juan Pablo Munoz
Pablo is a Colombian born artist living in Vancouver. His work stretches from acting, poetry, dancing, and visual arts. He started painting and writing at an early age, taking inspiration from his hometown's landscapes and the struggles of Immigrants and Latin American people. His poetry has political tones and reveals great frustration towards the social state of the world. He was recently featured in a short film called "Nomadic Brushstrokes", an artist profile on two Colombian artists. Throughout all of his work he keeps the idea that art is not a tool for social change but a living entity within it.
Lili Robinson
Lili Robinson is a fifteen-year-old East Vancouverite with a passion for theatre, activism, and the arts. She discovered her love of theatre when she joined Vancouver Youth Theatre in 2006, and has been in many VYT productions since then, including their performance at the Word on the Street 2010. This past school year she acted in Theatre Temp's The Secret in the Wings and was a member of the Cultch Youth Panel, helping to organize the 2010 IGNITE! Youth Arts Festival. She is grateful to be a part of the Gaza Monologues, and hopes both to educate and be educated.
Alisha Glidden

My name is Alisha. I am 16 years old and I am a member of the UP-RIZE Program of the Transformative Communities Project. I'm a grade 11 student attending Princess Margaret Secondary School in Surrey. I'm part Blackfoot and Welsh. The reason I'm a part of this project is because it gives me a chance to put myself in another person's shoes for a little while and learn something that I can't learn at school. It's something I'm really excited and lucky to be involved in. My favorite color is purple and I'm an avid poet.
Brennen Bender
Brennen Bender was born on February 4th 1995 at Ridge Meadows hospital. Brennen was four years old when his parents divorced. He grew up with his mother and his brother. Brennen is currently in the UP-RIZE Program of the Transformative Communities Project. He came to this project expecting to learn and expand in art mediums but his interest quickly changed when issues were talked about. He has found a place where his voice can be heard and his ideas can be shared. He also has a cat!
Krystal Bell
Hola! My name is Krystal Bell. I am part of the Haida and Tsleil Waututh Nations and I am sixteen years old. I have been an active participant in youth groups provided by Kla How Eya, as well as a member of The Transformative Communities Project (formerly the Surrey Urban Youth Project). Over the Summer I was also employed at the Museum of Anthropology through the Native Youth Program. I am involved with the Gaza Mono-Logues because it's an amazing opportunity to feel that connected with youth all over the world and to be empowered by the messages themselves.
Musician
Emad Armoush
Emad Armoush is an accomplished Flamenco and Arabic musician. Originally from Syria, he has been performing for the last 10 years. He began with Flamenco guitar and rhythms, then expanded to learn the singing style and other Mediterranean instruments, such as: the Flamenco rhythm box "Cajon", Arabic drums, the "Oud" (Arabic lute), and the reed flute "Nay". He has appeared and recorded on CBC Radio, Zed TV, and has performed at many festivals in Canada and France. He performs regularly with his group "Aire Flamenco" at La Zuppa, Dulcinea Cafe, Chai Gallery and East is East.

Producing Organizations
Headlines Theatre
Founded in 1981, Headlines uses Theatre for Living to help living communities tell their stories. Theatre for Living has evolved from Augusto Boal's "Theatre of the Oppressed". Since 1989 Headlines' work has moved away from the 'oppressor/oppressed' model and approaches community-based cultural work from a systems-based perspective: acknowledging a community as a complexly integrated, living organism.

Headlines' work is a worldwide leading example of theatre for social change, with projects in collaboration with First Nations and multicultural communities. We've addressed topical issues through hundreds of theatre workshops, Power Plays, and Forum Theatre events around the world.
Neworld Theatre
Neworld Theatre is an award-winning, Vancouver-based theatre company that
creates, produces, and tours new plays and performance events. We tell stories that reflect Canada's diversity in the broadest sense – cultural, linguistic, social and economic. We use popular forms to examine our lives in the context of who counts, who doesn't, and what our relationship is to the people we may think we aren't.
Transformative Communities Project Society
TCPS is a not-for-profit organization. Through our program, the Surrey Urban Youth Project, we have delivered arts-empowerment, anti-oppression programming for Lower Mainland communities since 2006. Our work promotes personal growth, community building, leadership development, and community-initiated social change through creative expression and heart-centered learning, rooted in principles of social justice.
Jews for a Just Peace
Jews for a Just Peace www.jewsforajustpeace.com, founded in 1987, is an organization whose purpose is to build support in our community for a fair and just resolution to the Israeli-Palestinian conflict. Through a wide variety of activities including lectures, demonstrations, films and theatre, we seek to raise awareness and understanding of the devastating consequences of that conflict. We are presently involved in the campaign to send a Canadian boatload of humanitarian supplies to Gaza see www.canadaboatgaza.org

The actors and directors take a bow. Photo: Seth Soulstein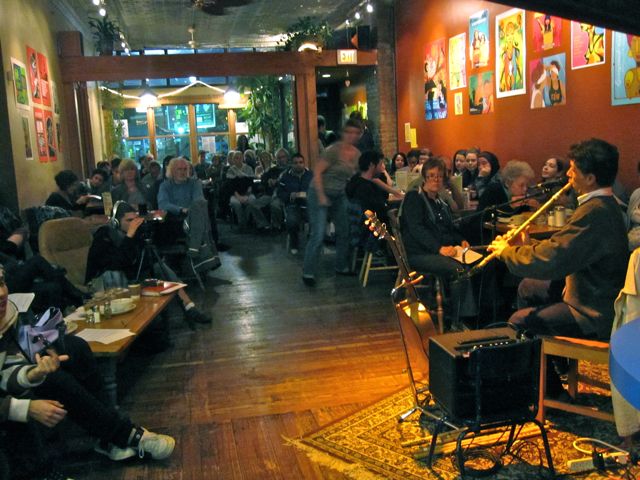 Emad Armoush playing wonderful music before the monologues. Photo: Seth Soulstein