Right to Fight (1982)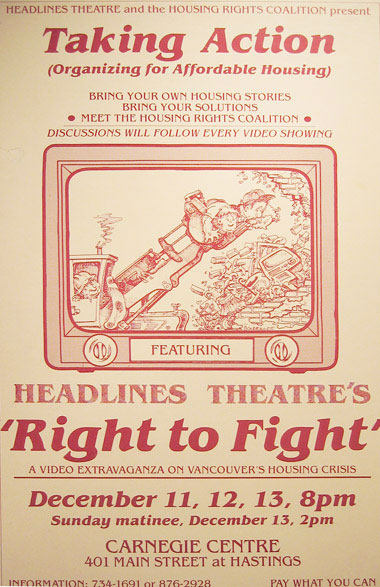 RIGHT TO FIGHT, a video documentary on organizing for affordable housing came directly out of BUY, BUY VANCOUVER. It has been screened across Canada, the U.S., Britain, Holland, West Germany and Cuba. In 1985, RIGHT TO FIGHT won two awards: Audience Favourite and Most Original Treatment (video category) in the National Housing Video and Film Festival in New York City. This was the beginning of Headlines involvement with television, a connection that grew into an innovative marriage of live theatre and the electronic medium.
Very quickly after this exposure, things began to change for the company. Numerous communities had been watching Headlines' work and people started phoning in asking the company to do theatre about specific issues.

Co-producer/Director:
Nettie Wild
Co-producer/Associate/ Director/Sound:
David Diamond
Editor: Bill Roxborough
Cinematographer: Kirk Tougas
Available Online

More Past Projects: