History of Headlines and the addictions project
Headlines Theatre has a 27 year history doing community-based theatre work in B.C., Canada and around the world. Founded in 1981 by a group of artists, we approach community-based cultural work from a systems-based perspective, acknowledging the many factors that lead to various community issues including, with this project, addiction. We are now remounting and touring an audience-interactive Forum Theatre production on the human relationships that lead to addiction.

See the promotional Youtube video here!
Title Change
The project was originally called METH and was very successful in 2006/07, performing in Vancouver and 28 BC communities to great acclaim. The play, about the root causes of addiction, used the media focus on methamphetamines at the time as a 'way in' to the issue.

As we have booked the western Canada tour, we have heard from some sponsors that while they love the non-judgmental approach the project takes, they wish the title was not the name of a particular drug. What was appropriate in early 2006/07 is not appropriate in mid to late 2008.

And so - after a lot of discussion, we are changing the title to: Shattering.

This works on many levels: how individuals, families, communities shatter as a result of addiction; also how the project is about shattering pre-conceptions about the issue and approaches to the issue. The play remains the same, only the title is changing. For clarity's sake all references to METH (except in audience quotes) will now be referred to as Shattering.

The first tour, in 2006, was highly acclaimed and successful in reaching and involving many citizens and those working in the addictions community—generating further requests for performances that we were unable to meet. This second tour, with the original cast, will present the work in additional communities in BC, and in Alberta and Saskatchewan.

"As a physician who works in the Downtown Eastside with substance-dependent patients, I found the Headlines Theatre production of METH a riveting depiction of people's inner conflicts around drug addiction and, too, of the conflicts addiction creates in their social world. The play was a realistic representation of some of the physical and psychological risks incurred when young people become hooked on crystal meth. The powerful lesson this dramatically conceived and executed production conveyed was that even a few words, if offered with compassionate presence and attention, can alter the self-destructive trajectory of another human being's life."
Gabor Maté M.D., Author of In the Realm of Hungry Ghosts http://www.drgabormate.com (Nov 30, 2006)

"I found METH to be one of the most helpful sessions around addiction - on a grass roots personal action level - I've ever attended. I really appreciated its gentleness and compassion, within the harsh material with which you are dealing. And a special congratulations for the performers. It takes so much courage and generosity to go to these places they are sharing with us.
Savannah Walling (Dec 1, 2006)

"(Headlines' METH) leads to an immediacy of understanding that no amount of well-intentioned discussion can achieve. Many of the (audience) interventions demonstrated that when people attempt to make meaningful connections, it can go a long way toward filling the hole that addiction - whether to drugs, alcohol, or work - keeps trying to fill. ...director Diamond skillfully brings home the point that even the smallest gesture can open the door to positive change.
Kathleen Oliver, Georgia Straight (Dec 7, 2006)
Project Genesis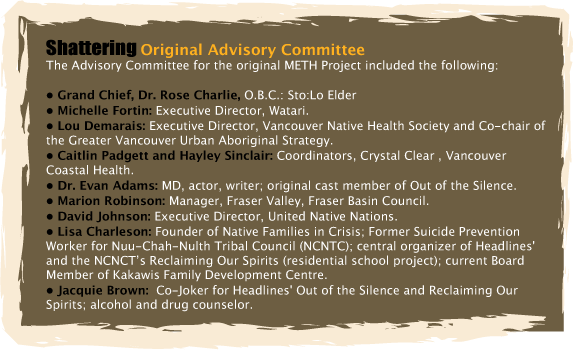 On January 6, 2006 Headlines Theatre attended a meeting to which we had been invited on the Skwah Reserve near Chilliwack. In the meeting crystal meth was described as 'the new plague'. The drug situation, it was said, on and off Reserve, was brutal. There was a measurable demographic of grandparents raising toddlers - the young parents, strung out on meth, were absent; a whole generation was being lost in a slow genocide/suicide. There was a great deal of pain, people said, and many things were not being talked about. At the same time, they explained, community presentations from various authorities were telling them what they already knew. Something else was needed.

That 'something else', it was suggested, could respond to the focus on crystal meth, but also understand that, at the time, the meth issue was the manifestation of a larger issue of drug addiction in our society. We also heard from numerous drug and alcohol counselors that the public discussion about meth was very similar to the discussion of 8 – 10 years previous about heroin, and the discussion that was beginning about crack cocaine. While the meth issue was of immediate urgency, true prevention comes from an investigation of the human factors that lead people into addictive relationships with drugs, and confronting how we deal with addiction at a grassroots, human level.
Creating the Play
The process began with an intensive six day community workshop involving twenty people who had struggled with addiction. Some were recovered addicts, others were family and community members affected by the problem. Together, they used theatre techniques to uncover the deep-seated desires, fears and motivations at play, and to better understand the intricate dynamics contributing to the problem.
Pictured left to right: Sophie Merasty, Herb Varley, Kayla Cardinal, Betsy Ludwig, Jordan Fields, Cody Gray. Photo: David Cooper
The material gathered in the workshop was used as a springboard for the development of Shattering, "Forum Theatre" created and performed by a cast of six of the workshop participants, working with the support of a professional production team of designers and technicians. There were ten performances of in Vancouver, followed by a tour of 28 performances in 27 communities throughout BC. Attendance was high, playing to an average of 85% house capacity. Over 6,500 people saw the show live. Moreover, the response from audiences and communities was remarkable.
"METH has had a profound affect on the 120 audience members and has resulted in a significant increase in self referrals to our mental health services. This is a good thing! We are moving forward with facilitated discussion groups and would really like to use a live theatre performance as part of our follow up. On behalf of Kitamaat Village and all those who attended. Thank you all for the work, the performance, the energy that you bring."
Lorna Morrison, Director of Health Kitimaat Village (Feb, 2007)
"I have been working with a young boy who has been diagnosed with FAS and has been ordered into counseling due to several charges ranging from assault to car theft all while he was under the influence of Alcohol or Meth. He has been a very challenging client for me to engage, until I happened to see him at your production.
At our next session I casually asked him what he thought of the METH play he immediately lit up and started to talk about how real it was and how much it reflected his own situation. It was the most talking that he had done up to that point and we have continued to return to it on many occasions. I wanted to let you know how your play impacted both myself and my client and thank you."
Stewart Johnston, Counsellor /Program Director, Vanderhoof Alcohol & Drug Services (Feb, 2007)
What is Forum Theatre?
Forum Theatre is an opportunity for creative, community-based dialogue. The play is performed once, all the way through, so the audience can see the situation and the problems presented. The story builds to a crisis and stops there, offering no solutions. The play is then run again, with audience members able to freeze the action at any point where they see a character engaged in a struggle. An audience member yells "stop!", comes into the playing area, replaces the character s/he sees struggling with the problem, and tries out his/her idea. We call this an "intervention". The process is fun, profound, entertaining and full of surprises and learning.
Focus of the production
The story of the play deals with the complexity of human relationships that lead to addiction. As was requested by many of the community members with whom we consulted and worked during the creation of the project, addiction is approached as a health issue – not a justice issue.

Shattering functions as a true voice of people who have themselves struggled with the issues. The cast are a mix of recovered addicts and people who have struggled with the addictions of family members and friends. The play creators carry this expertise, and so the play helps communities seeking grassroots solutions. The interactive Forum Theatre events have the effect of creating grassroots dialogue that seeks insights into and solutions to issues of addiction.
A cross-cultural project
The production features a Native and non-Native cast. Performances are booked in partnership with Native and non-Native communities and organizations. The project presents an opportunity for communities across Western Canada to come together, sometimes across cultural divides, and to work together on a shared problem. Headlines has been very successful for many years at collaborating with grassroots organizations to draw out a broadly diverse audiences.
Pictured left to right: Jordan Fields, Cody Grey. Photo: David Cooper
The audience's engagement in the Forum Theatre process builds cross-cultural understanding and also helps investigate solutions to the issues that are relevant to all audience members, in the communities in which they reside.
Does it have a concrete result?
In 2002 we had the opportunity, through our production on school violence, Don't Say a Word, to have a quantitative survey done by Dr. Shelley Hymel. The survey found measurable, positive result in the school regarding changes in attitude towards school violence and bullying.
"Students who participated in the Don't Say a Word Anti-Bullying Forum Theatre events were significantly more likely to feel that they 'know what they can do to stop harassment' than students who did not participate. Students who participated reported more willingness to respond and be responsible than did students who did not participate.
Given that these data were collected only a short time after the Headlines Theatre presentation, these effects are actually most encouraging. In just a few short weeks, this unique theatre effort planted seeds that have already begun to grow in the minds of those students who participated. Over time, the increased awareness that is evident among participants should continue to affect how students think and behave, as students apply what they have learned to their own real-life situations."
Excerpted from the quantitative report: "Impact of Headlines Theatre's Anti-Bullying Forum on Secondary Schools" April 4, 2003, by Shelley Hymel, Ph.D., UBC Faculty of Education. A synopsis of the report, written by Dr. Hymel, is available at: http://www.headlinestheatre.com/past_work/dsaw/hymel-letter.htm
We have known this was true for years through anecdotal evidence, but it is great to have the hard, statistical data. What happened in the school also happens in the larger community. This was the case, we are certain, with Here and Now concerning issues of getting drawn into gangs and ways to consider exiting once one has entered the life. It was also the case with the first run of METH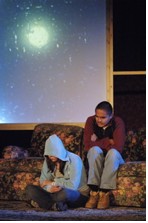 Left to right: Kayla Cardinal, Herb Varley. Photo: David Cooper
"I have had several counselors in the community comment to me how much their clients had appreciated METH (in Kelowna) and that they were still talking about it. They felt that it really helped them to see that there are options and so many different ways of thinking and acting at any given time."
Lynn Murovec, Crossroads Treatment Centre (Feb, 2007)
"Feedback on Meth was awesome. We had recovering Meth addicts attend the performance who were very appreciative for bringing the production to Cranbrook. I know of one family that attended together and the same family attended our Follow Up Dinner and Discussion.
There were lots of partnerships built between the St. Mary's Band and outside agencies. Many people who attended our Follow Up Dinner on Feb 12, as a result of the Meth play, had a chance to meet new people and resource people that may be able to assist them in their recovery. We had 50 participants. Our Chief and a band counselor were in attendance. The room was filled with young people and older people. It was awesome to have people talk about what they thought about the play and to talk about their feelings as well."
Bonnie Eugene, aqam Community Governance Facilitator, Cranbrook (Feb, 2007)
Teams of Support
As was the case the original tour, METH Shattering will initiate collaborations among teams of counselors and support workers everywhere it performs. Part of the tour booking process will be to co-ordinate with addictions counselors in each community. Upon arrival in the community, while the technical crew is setting up the stage and lights, our addictions counselor will meet with the team of counselors from the community, to prepare them for the Forum Theatre event. The teams, having been at the event, will be available inside their communities for the requests for their services which may occur.